Confession time: the Sims 2 University EP was my least favorite. To me, it felt like such a grind to get your sim through school…kind of like teaching the toddler skills. You know you have to do it for the good of your sim, but it is not that fun. So when I initially heard about the University Life Ep for Sims 3, I was not sure I wanted it. Boy was I wrong!
EA has really changed and enhanced the college experience and made it so much more enjoyable. I could tell that a lot of thought was put into this and it really shows. For starters, college is not an "all or none proposition"….you have terms and your sim can go home between them! So you can to the college thing for a while, come home and catch up with family and friends, relax a little or get a part time job, and then head back. Freedom!
I was also excited to discover that any adult can go to University. And yes, that includes our elders! It gives you so many new options for stories and to shape your Sims' lives however you see fit. I like the idea of seeing elders popping up at the juice keg party or the bon fire.
The idea of freedom and flexibility of game play is most evident in the structure of earning your degree. There are so many ways to learn and rather than just send our Sims into a rabbit hole or watch them read books, we can follow them into the lecture hall. Once there, you can choose several interactions for your sim, including give a presentation, take notes, ask questions, or even fall asleep!
You can also form a study group, which functions the same as a group outing, with the added benefit of increasing your academic performance, read books, and use the special object unique to your major. When your sim choses a major, (communications, fine arts, tech, business, science and medicine, and phys ed) the object is placed in the inventory for them to pull out and use any time they want to work on their performance. So basically, it is not spamming certain interactions over and over to get your sim to the right level…you can pick and choose many different interactions and have fun watching what happens while your sim learns.
And there is plenty of time for fun too! Simguru Britt mentioned that balance between school and social activities so our Sims could have a full college experience was important to the development team, so they took pains to ensure that there are tons of new social activities and interactions, as well as time to experience them all. The smart phone will be the hub of your sim's experience….just like it seems to be for most of us in real life. With it, you can study, text your friends, take and send pictures, and even check your standing with the various social cliques. I found this aspect particularly helpful: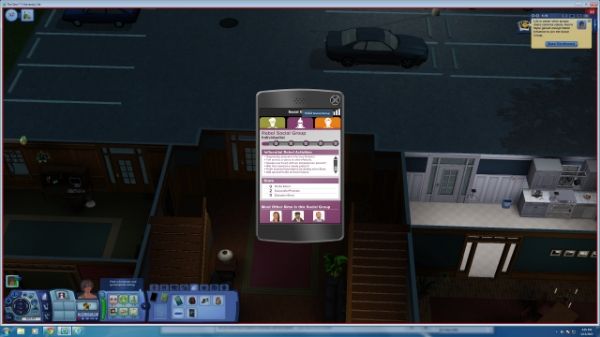 It not only tells you where you stand with the jocks, the nerds and the rebels, but it goes a step further and lets you know what actions you can take to increase your influence with them. Once you do, your sim unlocks new interactions. Get some cred with the nerds and your sim has the ability to challenge others to a trivia contest, for instance. They get a positive or negative moodlet depending on how much they know about llamas and whatever else comes up. Hovering over any student on campus tells you who is in a particular group and your smart phone also tells you which jocks you might want to befriend if you want to be big man on campus.
Each group has its own "hang out" where members of that set are more likely to be found. The jocks get competitive at the Bowl-a-rama, the nerds geek out at the Comic Book store, and the rebels plan the next protest at the Grotto.
The Sorority and Fraternities are another social option for your Sims and getting in one or making your own could not be easier. They are now a lot type, which means you don't have to worry about applying for a charter or having a certain amount of funds. You can take any residence and change it to a Greek house. They will discover that there are more parties popping up and more dares being challenged if they do. Dares? Another new interaction! One we observed was the "cinnamon dare". Pretty sure you can dare someone to streak too.
So now that studying and socializing are well in hand, it is time to check out the world of the University. As you may have heard, the college town functions in the same way as a vacation world. While your sim is there, everything at home is frozen in place. This includes the seasons. You can set the college to have the same seasons as your home town or you can make it perpetually fall if that is what you want.
The overall look of the campus is quite Ivy League and traditional. The rabbit hole buildings are stone, old world, and imposing in feel, but the venues are more of what you would expect on any college drag. This is a new burger joint rabbit hole that I fell in love with…it really has the feel of a 50's drive in.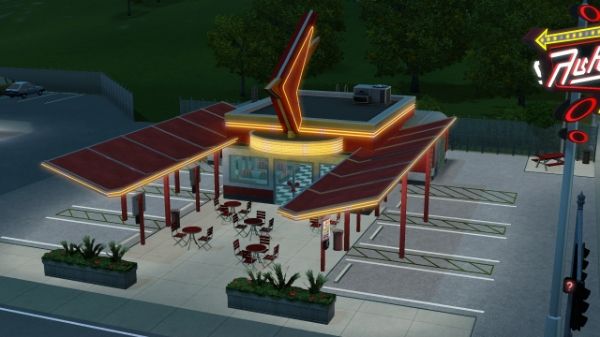 Your sim can choose to live in a dorm, a fraternity or sorority house, or a rental and you can build any one of these types of lots if you don't like what comes with the game. Each of these are lot types so switching to that type will do thOn the dorms, you will not have a regular mail box, but a large bulletin board/mail box combo that serves the same purpose. On the frats and dorms, the game will automatically try to fill the house with NPCS once you move your sim in, but you get to pick which beds everyone gets. Does your sim hate that smarmy guy with the attitude? Give him the worst room! I did notice that when I changed out my sim's bed I had to re-designate it has hers or else other sims started sleeping in it….something to remember if you remodel.
From a builder's perspective, I saw tons of stuff I can't wait to get my hands on. There are so many new beds, chairs, desks, and decorative objects that are great for university builds and still versatile enough for anywhere else you would want to use them. Some of the dingy, run down objects could work really well for a dive or a slum build, for instance, while the plush chair and sofa that look great in a professor's office would also do nicely in a Victorian or historical build. The barista bar and the new recreational objects lend themselves to building all sorts of custom venues. If you are building children or teen rooms, you will have a bunch of new clutter and furnishings to work with as well. A little bit of something for everyone…and every place in the game. Here is a sampling of just some of the many objects that caught my eye: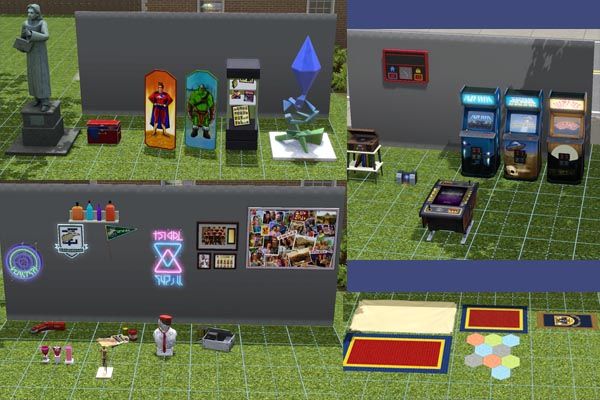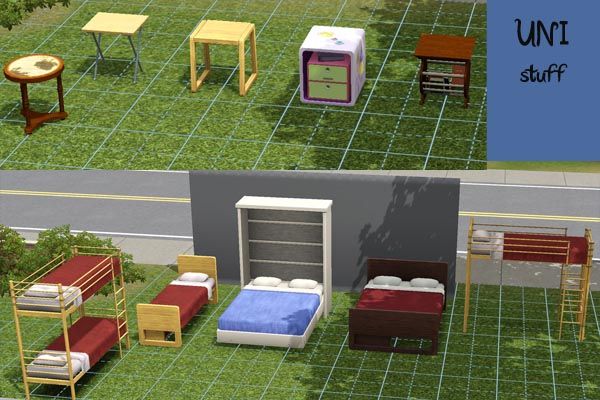 Did you notice the vending machines? Your sim can grab a quick snack before the next class..or if they happen to be short on change ( and what college student isn't?) they can try "shaking" the machine to see if a freebie will pop out! But be careful…because there is a chance that if they shake too hard the whole thing might topple over and your sim could be the victim of the new death type: blunt force trauma.
I was so busy looking at everything; I barely had time to glance at the build side of the catalog. There are two new trees and a new bush and of course the whole new harvestable "herb" category. I know herb means something else entirely to some college students, but to our Sims they are various spices that can be used to gain different effects such as studying harder, staying awake, losing weight, and feeling more romantic. They appear in the world as harvestables, which means you can "debug" them and place them in any world you would like. They can be grown and used in cooking as well as thrown into the bonfire to cause multiple people to experience whatever effect they cause. You can drink them as herbal tea ordered from the barista in any coffee shop. Using too many or the wrong combination can cause herbal sickness…we saw a negative moodlet and vomiting.
I know there is a boatload of stuff I am leaving out, but that tells you something: there is a lot of content in this EP. I could have spent at least an hour playing around with CAS and all of the new clothing and hair options. As it is, I barely scratched the surface. Here is a sample of some of the new options I found: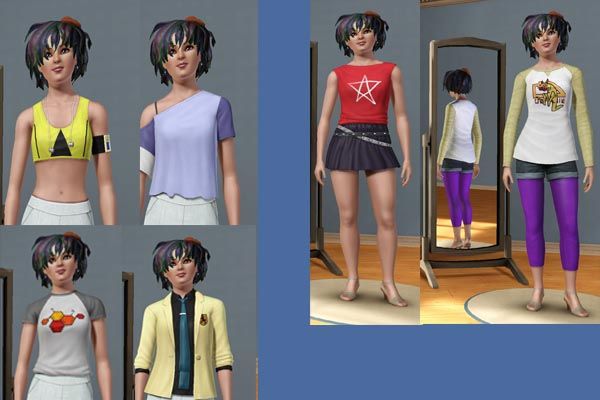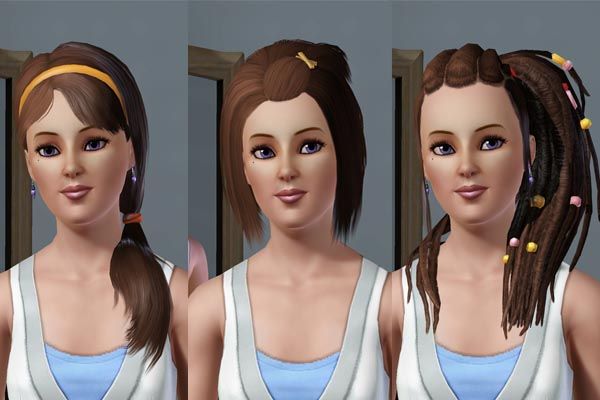 So, what was my University experience like? It was kind of like college is in real life: fun, stressful, tons to see and do. Every aspect of your game will be enhanced by this pack. Sure, your Sims will get a great leg up on their career when they graduate, a 6th skill trait (!) and the opportunity to possibly meet new Sims. But as a player, I think you will find that even if your sim doesn't go to college, you will have new ways to tell stories, build lots, and make Sims. I went into it assuming that I would be the most interested in the new objects for building. What I found was that it actually makes me more excited to just play the game. All of it.